Inside Boston Marathon Bomber's Social Network; He's an Obama Supporter
April 19, 2013
One of the bombers tweeted this:
Another incriminating tweet:
"boston marathon isn't a good place to smoke tho."
A Boston Marathon survivor has cheated death to identify the man who tried to murder him.
Jeff Bauman, who was waiting among the crowd for his girlfriend to cross the finish line, told the press he looked into the mass murderer's eyes. The man was wearing a cap, sunglasses and a black jacket over a hooded sweetshirt. Jeff saw him dropped a bag at his feet. A few moments later, the bag exploded, tearing the his legs apart and killing many others, including an eight-year-old boy named Martin Richard who was standing a few inches away from the bomb suspect.
The suspects were finally identified by Federal authorities as Muslim brothers Dzhokhar Tsarnaev, who remains at large, and Tamerlan Tsarnaev, who was killed in a firefight with law enforcement.
"He woke up under so much drugs, asked for a paper and pen and wrote, 'bag, saw the guy, looked right at me,'" said Jeff Bauman's brother, Chris.
Dzhokhar allegedly posted online he will 'kill everyone because we killed his brother'.
Tsarnaev's family left Chechnya, which has been plagued by an Islamic insurgency stemming from separatist wars. The mass murderers' uncle, Ruslan Tsarni, said they left the war-torn region and Dzhokhar was born inhe Middle East. They were refugees when they arrived in the United States. The whole family was embraced by the United States and they all became citizens. Reports reveal that deceased Tamerlan became a naturalized US citizen on September 11, 2012 – the 11th anniversary of the 9/11 terrorist attacks. Their mother, Zubeidat K. Tsarnaeva, was arrested last year for allegedly stealing $1,600 worth of clothes from an upscale department store.
Personally, I feel pity for brainwashed people like Dzhokhar Tsarnaev and Tamerlan for naively embracing an evil religious belief. They could have lived a better, happier and more peaceful life. Like many others who carried out horrible terrorist activities and crimes in the name of their religion, the brothers were radicalized to kill infidels. Such is the evil nature of their fate.
Dzhokhar's tweets show he supported President Barack Obama's reelection and that he's liberal-leaning or a Democrat.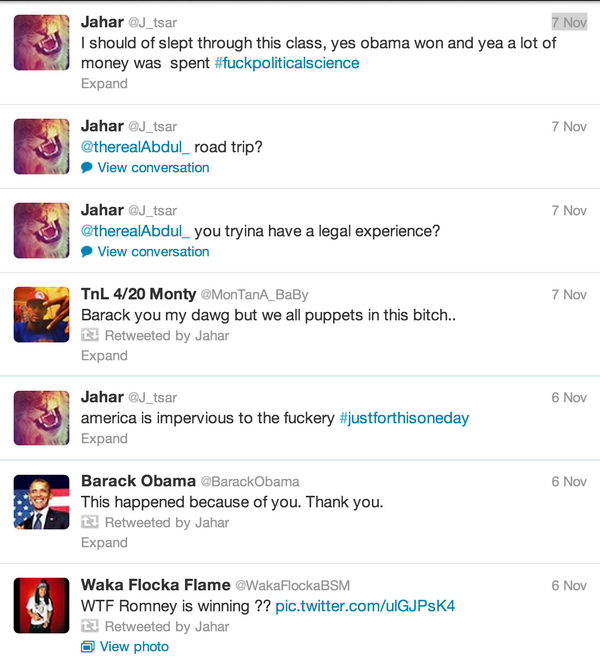 From The Daily Caller:
Tsarneav's Twitter account provided clues about the suspected bomber's political views. On November 6th, he retweeted several statements suggesting a preference for President Obama over Republican candidate Mitt Romney.

He retweeted a statement from President Obama's Organizing for Action account that said: "This happened because of you. Thank you," in reference to Obama's victory.

He also retweeted a statement and a picture making fun of Romney. The Tweet said: "WTF Romney is winning ??" and linked to this image.
A developing report from NBC News:
With a bomb strapped to his chest, one of the Boston Marathon suspects was killed early Friday after he and his accomplice brother robbed a 7-Eleven, shot a police officer to death, carjacked an SUV and hurled explosives in an extraordinary firefight with law enforcement, authorities told NBC News.

The second suspect — the one in the white hat in photos released by the FBI — was on the loose. Gov. Deval Patrick ordered the entire city of Boston and some suburbs to stay inside during what he called a "massive manhunt," and police began a house-to-house search. Boston shut down its buses and subway system.

The suspects are brothers of Chechen origin with the last name Tsarnaev, law enforcement officials told NBC News. The suspect at large, Dzhokhar Tsarnaev, is 19, was born in Kyrgyzstan and has a Massachusetts driver's license, they said. The dead suspect was identified as Tamerlan Tsarnaev, 26, born in Russia.
Boston.com reveals that the city of Cambridge awarded Dzhokhar Tsarnaev $2,500 city scholarship in 2011. The scholarships were for students at Cambridge Rindge and Latin School, part of the American liberals' public school policy.
Now I went to VK.com, one of Europe's largest social networks, to take a glimpse of the mass murderer's virtual life. Here's a link to his social network.
Dzhokhar provided the following basic personal information:
Here's a photo found on his social network.
Since the guy speaks Russia, I had to use Google Translate.
He posted the following video (on March 13, 2012) with the comment: "sil'no zamutil bratishka". Translation: "heavily muddied brother."
The video is titled: "Кавказские акценты", meaning 'Caucasian Accents'.
He also posted the following:
В школе задают загадку..Едет
автомобиль. В нем сидят – дагестанец,
чеченец и ингуш.
Вопрос – кто ведет машину ?
Мага отвечает: – Полиция.

Translation:The school asked the riddle .. Goes
car. In it sit – Dagestani,
Chechen and Ingush.
Question – Who is driving?
Magus says: – The police.
He updated his profile picture on March 19, 2012.
Dzhokhar's VK account generated thousands of angry comments from users worldwide.
On Twitter, Dzhokhar posted the following tweet on April 16:
"Ain't no love in the heart of the city, stay safe people."
Here's a Google cached version of his tweet:
His profile picture:
Dzhokhar tweeted this Eminem lyric from "Forgot About Dre" one day after the bombing.
He also tweeted at a Ted the Bear parody account about the Boston Marathon bombing on Tuesday.
On the 15th, the day of the bombing, he tweeted this:
On Monday, that night, he tweeted to his followers to "stay safe."
His Twitter activity up until recently, however, was fairly normal.
He has pictures posted of his new cat.
Aww! Look at that tiny creature. Who would have thought a terrorist cat could be so cute?
He was also a pretty big car buff.
He was also a pretty big fan of parody accounts and memes.
A number of Twitter and Facebook accounts attributed Dzhokhar have also emerged, like this and this.
Here's a Dzhokhar parody account:
Another fake Twitter account:
On the other hand, one of Tamerlan Tsarnaev's favorite songs is titled "I will dedicate my life to Jihad."
From Daily Mail:
The older of the two Chechen brothers suspected of detonating two bombs at the Boston Marathon became radicalized since moving to the US a decade ago, it was revealed today.

Tamerlan Tsarnaev, 26, the older brother of 19-year-old Dzhokhar, who is currently the target of a massive all-out manhunt in Boston at its suburbs, was shot dead Thursday evening in an armed confrontation at MIT.

Officials say the two siblings, refugees from the Caucasus region, were the men behind the horrific terrorist attack that took the lives of three and left 176 injured during the Boston Marathon Monday.

In the hours since the Tsarnaevs have been identified as the prime suspects in the bombings, a picture has begun to emerge of the older brother as a man who felt like an outsider in the US and had recently become radicalized.

The 26-year-old had a profile on YouTube channel since August 2012. Five months ago, Tamerlan created a playlist dedicated to terrorism.

Named simply 'Terrorists,' the playlist included a pair of videos, which are now no longer available.

Although most of the clips in the channel are ordinary music videos, Tamerlan Tsarnaev's YouTube channel shows signs that he had been drawn to radical Islamism.

Among the songs on his playlists was one called 'I will dedicate my life to Jihad.' He also featured videos recorded by recent converts to Islam.

Both he and his brothers are believed to have military experience. NBC News learned that counterterrorism officials were examining possible links between them and the Islamic Jihad Union of central Asia.
Tamerlan's YouTube page is here. The Jihad bomber's video list includes a lecture of Feiz Mohammed, a radical Jihadi preacher and former head of the Global Islamic Youth Centre in Liverpool. Mohammed said in one video that Muslim children should be encouraged to become jihadists:
"We want to have children and offer them as soldiers defending Islam… Teach them this: there is nothing more beloved to me than wanting to die as a mujahid. Put in their soft, tender hearts the zeal of jihad and a love of martyrdom."
SCENES AFTER THE EXPLOSION: